Codrops is a web design and development blog that publishes articles and tutorials about the latest web trends, techniques and new possibilities. The team of Codrops is dedicated to provide useful, inspiring and innovative content that is free of charge.
What sponsorship includes:
This is a Newsletter Sponsorship, the advertiser provides the content that the publisher will share with their audience.
The Codrops Collective features the latest news and resources from the web design & development community. With more than 500 issues, it has become a very popular bi-weekly reading list for many web professionals.



The Collective is published on our website and also sent out as email to all our subsribers.



Your sponsored news item will be placed in the top row of a Collective issue (labeled as "Our Sponsor").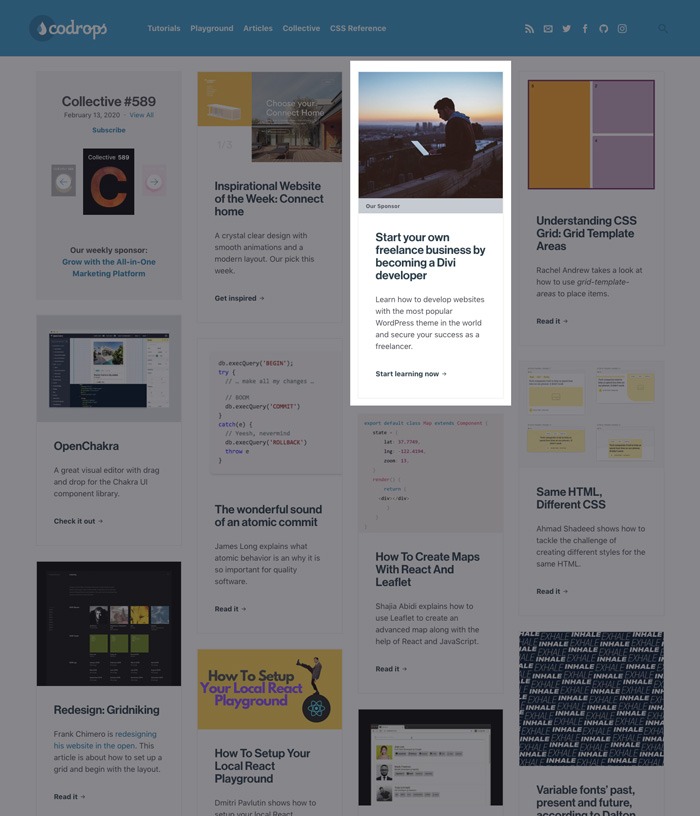 Engagement:



- More than 80k subscribers

- > 2,8 million page views



Assets:



- Featured Image (300px width)

- Headline (65 characters)

- Ad Copy (160 characters)

- Call-to-action



The Collective archive can be found here: Codrops Collective Archive.




Examples of past sponsors: