Codrops is a web design and development blog that publishes articles and tutorials about the latest web trends, techniques and new possibilities. The team of Codrops is dedicated to provide useful, inspiring and innovative content that is free of charge.
What sponsorship includes:
This is an advertorial, the advertiser provides the content that the publisher will share with their audience.
The monthly sponsorship is a package that includes the following:

1. The top right sidebar ad with image and text

- image size: 300 x 250
- text length: max. 130 characters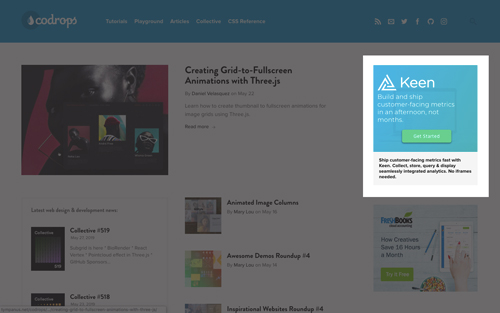 2. Text link that appears in all our 790+ articles (inserted in the beginning of the article)

- text length: max. 100 characters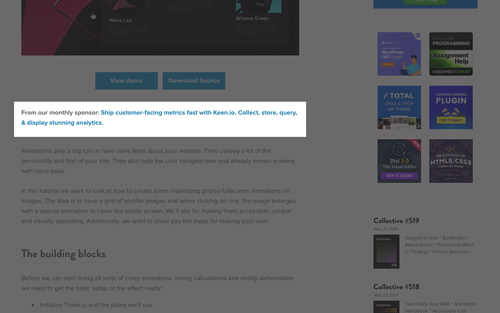 3. Text link in the Collective title box (all Collectives). Our Collective is a bi-weekly web design and development news magazine that gets published on our site and sent out as newsletter

- text length: max. 60 characters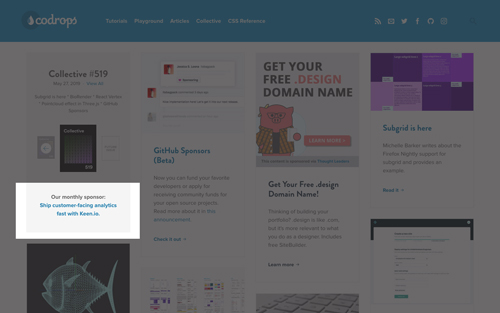 4. Text link in all our Collective newsletters (usually 8 per month) and one official newsletter (1 per month)

- text length: max. 100 characters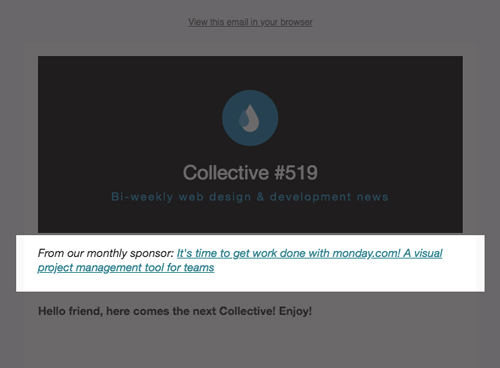 5. One sponsored tweet to 178k followers

- tweet text + link (max. 130 characters)
- optional image 1024 x 5126. One sponsored Facebook post to 88k followers
- optional image 800 x 600


Please note that a sponsorship starts on the 1st of every month.

All items will be labeled as sponsorship/advertisement.

Examples of past sponsors:
Keen - https://tympanus.net/codrops/2019/04/24/how-to-build-an-underwater-style-navigation-using-pixijs/
monday.com - https://tympanus.net/codrops/2019/04/04/inspirational-websites-roundup-3/
HelloSign - https://tympanus.net/codrops/2019/03/05/inspirational-websites-roundup-2/